How to record audio from a Google Hangout on Mac
21 Jun 2013
Google Hangouts offer an amazing way to connect with friends, colleagues, or classmates - all for free! You can join in a video call with up to ten people instantly with barely any setup. (Yes, google installs a quick one-time downloaded plugin to enable better video and audio. But this is automatic for a first-time user.) There is no software to pre-install and communicate amongst team members.
Recently, I began an online Spanish course here at Penn State. Part of the lesson required forming a group with a small number of classmates and completing a discussion. This course was online and none of us were in the same area so we required the help of technology to meet online and practice our spanish. Google Hangouts was one easy solution that came to mind for all of us.
It would be easy to record myself speaking into my computer's microphone. The tricky part is also recording my teammates speaking through Google Hangout while they listen to me at the same time. Thankfully, there are numerous programs available for Mac to make capturing all the audio a possibility. (I am sure similar alternatives exist for Windows as well and can follow the same pattern described in this post.)
To record audio of yourself and others during a google hangout, you will need the following free or open source software:
First, install Soundflower - which has moved from cycling74.com to https://rogueamoeba.com/freebies/soundflower/ or find directly on github - on your mac. Soundflower allows you to route audio from one program on Mac to another without complicated external wiring setups - everything is done in software. Launch Soundflowerbed, the configuration program. For Soundflower (2ch), select "Built-in Output" to connect Soundflower to your speakers or headphones. This will allow you to hear any audio that was routed into soundflower once we are finished. Next we will configure programs to send sound to Soundflower.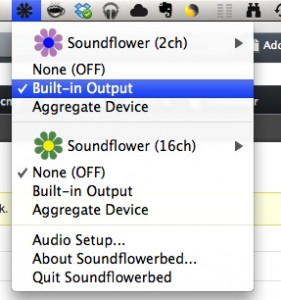 Second, to capture all sounds on your Mac you should change your system wide sound output. Open System Preferences -> Sound. Select the Output tab and then choose Soundflower (2ch) as your output device from the list. Leave Input as your Internal Microphone.
Next, you need to capture your microphone for the recording. Install Ladiocast (http://ladio-cast.mac.informer.com/download/) and launch the program. To do this we will be combining two inputs into one big output. Input 1 will be Soundflower (2ch) which contains all the sounds coming from your Mac. We set this up with the Sound Preferences menu in the previous step. Input 2 should be your Built-in Input which will capture just your microphone audio. Finally, we send both of the inputs to the Soundflower (16ch) device. It is important to note that we use 16ch NOT 2ch for this step in order to keep everything separate. Your Ladiocast screen should look similar to this: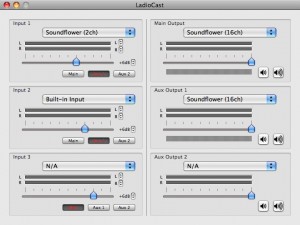 Finally, install Audacity (http://audacity.sourceforge.net/) to complete the actual recording. Open and start a new project. Set the recording source (looks like a little microphone on the toolbar) to Soundflower (16ch) to grab the combined audio source. Make sure the output is set to the Built-in Output so you can review your recording afterwards.

Your recording setup is now complete! Open a Google Hangout with a friend or multiple to begin!
Remember to double-check the Google Hangout settings. In some cases the Hangout can override the Mac Sound Preferences and direct the audio to your Built-in Output. If this happens, then you won't hear the Google Hangout in your Audacity recording. To fix this, open the Google Hangout settings by clicking on the gray gear icon in the Hangout. For the output setting choose "Soundflower (2ch)".
You should now be good to go!